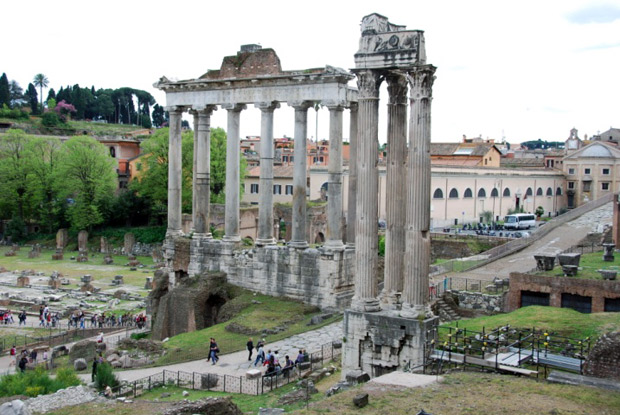 Beautiful stones: the Roman Forum
What brings a group of architects, conservators, engineers, geologists, scientists, and archaeologists from twenty countries and six continents to Rome? Rocks—or more accurately, stone. They have all come to participate in the 17th International Course on Stone Conservation, which began in the middle of April and runs until the first of July.
The ten-week course is taking place in Rome at ICCROM (International Center for the Study of the Preservation and Restoration of Cultural Property). This is the second time the Getty Conservation Institute (GCI) has partnered with ICCROM to hold the course. Advancing the conservation of building materials—including stone—has long been part of the GCI's agenda and work.
This is the first time since its inception in 1976 that the stone course is being held at ICCROM's facility in Rome, providing participants direct access to its laboratories and library. This has the added advantage of having at hand the extraordinary architectural heritage of Rome and its legacy of stone conservation practice.
Course participant Elmonster Elmoubark—or Doddey as his fellow participants know him—is a conservator with the National Corporation for Antiquities and Museums in Sudan. Faced with a rich and ancient heritage and limited resources, Doddey feels immensely proud to be part of the course, but also a huge responsibility to take back what he learns to help aid the conservation of that heritage. "I love my country," Doddey said, "and I want to do the right thing for my country."
Michel Salameh, who works for the non-profit organization RIWAQ (the Center for Architectural Cultural Conservation in Palestine), said that hearing perspectives from twenty different countries and gaining a fuller appreciation of the range of issues in preserving stone—the critical building material of so many ancient and historic sites—has been very useful.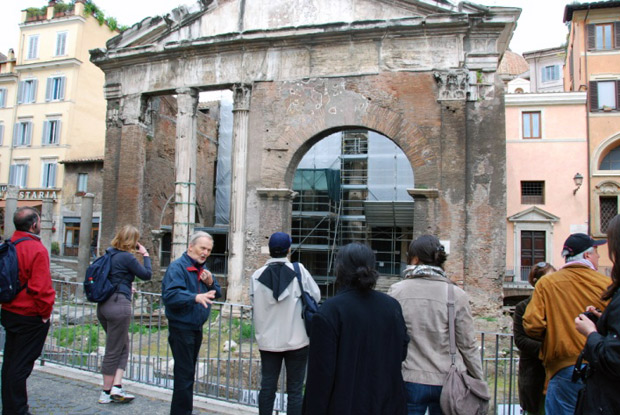 Participants in the 17th International Stone Conservation Course on a walking tour with Dr. Jukka Jokileheto, discussing the evolution of conservation practice in Rome
The International Course on Stone Conservation has long served a vital educational role in the conservation profession by offering an accessible and intensive venue for learning theoretical and practical methodologies for stone conservation. It also provides a constructive and intimate forum for international professionals to meet and exchange ideas about the conservation practices and challenges.
One course participant, Jakub Doubal, teaches stone conservation in the Czech Republic, at the University of Pardubice's Faculty of Restoration. Jakub told the class that he is particularly interested in learning more about the conservation of outdoor stone sculpture. He's also interested—along with some of his new friends in the course—in building a network of professionals working in this area of conservation.
Using Rome as a laboratory, course participants have had the opportunity to learn from a series of specialists. The course is enhancing their understanding of stone as a building material and of how it decays, as well as covering methods for its documentation and analysis, and repair and intervention. The course is also exploring the interdisciplinary requirements for conserving the stone heritage of the participants' respective countries—which include Australia, Belgium, Brazil, China, Denmark, Georgia, India, Japan, Korea, Netherlands, Nigeria, Romania, Russia, Spain, Sri Lanka, Syria, and the United Kingdom.
Tags: conservation science, GCI, heritage conservation, Rome, stone conservation
Share